Quality Care Advocacy
Facilitating communication and feedback between PLHIV, civil society, service providers and the government sector.
Discrimination is an ongoing issue in Cambodia, and many PLHIV face rights abuses on a daily basis. Discrimination in healthcare settings is often the result of a disconnect between PLHIV and duty bearers, and misinformation about HIV/AIDS. In advocating for equal access to quality care for all Cambodians, AUA plays an important strategic role in facilitating communication and feedback between PLHIV, civil society, service providers and the government sector.
Through education and group discussions, our staff encourage PLHIV to have a deeper understanding of their right to quality care and to actively advocate for their rights. We promote opportunities for anonymous feedback and encourage patients to report incidences of discrimination. We work directly with service providers, commune chiefs, provincial health departments and other duty bearers to encourage accountability, and we promote initiatives that give PLHIV recourse. Through research and evidence collecting, AUA is helping influence future policy decisions around HIV/AIDS Law and the human rights of PLHIV.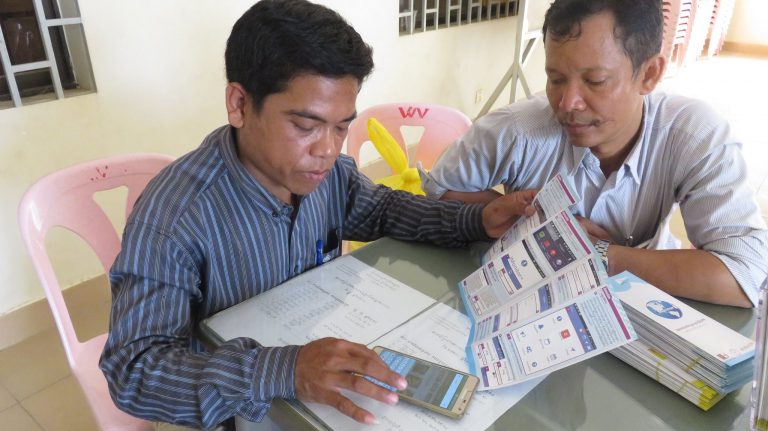 iMonitor+
iMonitor+ is a digital tool that allows people to anonymously report experiences of discrimination in real time. AUA clinics distribute free information booklets to patients regarding iMonitor+ and our staff coach patients how to use the app, which can be downloaded to a smartphone or computer.
Suggestion Boxes
AUA has placed anonymous suggestion boxes inside the consultation area and in-patient department of the Khmer Soviet Friendship Hospital so that patients can post comments regarding quality of care and treatment within the hospital. These boxes are opened every month in the presence of a committee consisting of AUA and various Ministry of Health staff where the comments are read and discussed. Comments are then passed on to relevant hospital staff so that issues can be addressed. This activity is intended to assist AUA in monitoring the quality of care provided in this facility. PLHIV receive awareness training within group discussions about their right to provide feedback.
Quarterly Meetings
AUA holds quarterly meetings for PLHIV who are receiving treatment in different centers. These meetings provide a safe space for patients to provide feedback on the quality of care they are receiving. Phnom Penh meetings are attended by an average of 200 people. This activity has been running successfully in Phnom Penh for 10 years and in Kampong Cham since 2008.
Stakeholder Coordination Meetings
AUA regularly brings together key government, civil society and NGO stakeholders to identify issues of discrimination and encourage better coordination. Meetings typically involve a discussion about the current problems facing various patient cohorts and ways to collaborate on solutions.
Exchange Visits
AUA organizes exchange visits so that patients and staff from Phnom Penh and Kampong Cham can visit health departments in other Cambodian provinces. The purpose of these visits is to create a forum for the discussion of quality of care, and to offer regional PLHIV mutual support on issues related to primary health care and drug adherence.
In December 2015, 43 PLHIV were invited to visit Siem Reap Referral Hospital and local NGO Salvation Centre Cambodia to learn about income generating activities and micro enterprise.
Research and Policy Making
AUA was one of two Cambodian community based organizations invited to contribute research to a recent report compiled by Asia Catalyst. 'First Do No Harm' recounts the experiences of more than 200 HIV/AIDS patients and suggests solutions to systemic discrimination in healthcare settings. Through this project, AUA staff received training on interview techniques and data collection, which has improved their capacity to document future cases of discrimination.