In Southeast Asia, widespread discrimination in healthcare settings undermines effective HIV response, according to a new report released this month by Asia Catalyst.
'First Do No Harm' presents primary research and patient testimony collected by community based organizations in Cambodia, China, Myanmar and Vietnam. As one of two Cambodian organizations called upon to participate in this process, AUA is honoured to have contributed to this important research.
The report's findings shed light on the systematic rights abuses that plague healthcare systems throughout the region. "Denial of services, segregated waiting areas, refusal to provide surgery, and discriminatory additional fees due to a person's HIV status" were among the incidents reported by the 202 men, women and transgender persons interviewed.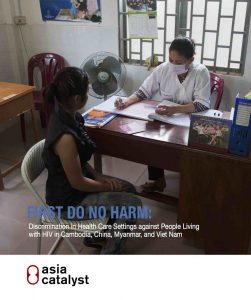 Having worked in the PLHIV community for more than 14 years, AUA has been exposed to a wide range of rights abuses here in Cambodia, including denial of reproductive health services for HIV-positive women, forced sterilization, and the addition of a 'HIV tax' for surgery. Far from isolated incidents, this report confirms that discrimination and stigma are endemic problems that seriously compromise health outcomes.
"Understanding the human toll is key to addressing the root causes of discrimination and ensuring a holistic response to the HIV epidemic," said Jebli Shrestha, Regional Program Manager at Asia Catalyst. "This need is magnified when stigma dissuades or even prevents people from seeking care in the first place."
Fighting discrimination in healthcare settings, the report asserts, begins with finding new ways to enforce Cambodia's HIV/AIDS Law and policies that are designed to protect the rights of PLHIV. Encouragingly, the report also confirms the importance of active community/service provider partnerships. Evidence suggests that in Cambodia particularly, going through a community based facilitator can drastically improve PLHIV's experience of healthcare. This key finding highlights AUA's continuing importance in bridging the gap between PLHIV and service providers.
To read more about AUA's work in Quality Care Advocacy, click here.
Image credit: Asia Catalyst.