On August 2, 2016, AUA and Cambodian Community of Women Living with HIV/AIDS (CCW) hosted a special workshop on discrimination in healthcare settings. The workshop represented the latest chapter of our 18-month partnership with Asia Catalyst and the Regional Rights Training program, and was made possible through a special sub-grant from Asia Catalyst.
Held at OD-Bassac, Meanchey Referral Hospital in Phnom Penh, the workshop brought together more than 25 individual stakeholders from government, civil society and the PLHIV/KP community. Our agenda was to share key findings from the research undertaken by AUA and CCW in 2015, and to workshop ideas for improving PLHIV/KP access to healthcare services in Cambodia. It was also an opportunity to share resources produced through the project, including the Field Guide for Community-Based Human Rights Documentation.
Ms Han Sienghorn, AUA Executive Director, introduced the workshop before honorable guest Dr Voeung Yanath of the National AIDS Authority (NAA) made the formal opening remarks. Ms Jebli Shrestha of Asia Catalyst – who made a special visit to Phnom Penh with her colleague, Ms Xianglei Zheng, for the workshop – then introduced the Regional Rights Training program and described AUA and CCW's participation. Ms Dalish Prum and Mr Heng Chheangkim made a joint presentation to introduce CCW and AUA's work before highlighting key research findings from Cambodia published in the report 'First Do No Harm'.
A question and answer session ensued, giving healthcare service providers and HIV/AIDS policy makers a chance to inquire further about the research and findings. PLHIV/KP community members also took this opportunity to reflect on and share their own encounters with discrimination in healthcare settings. Many issues were raised during this productive exchange of experiences, ideas and constructive criticisms. The diversity of perspectives and opinions on offer highlighted the complexity of the issues at hand. Honorable guest Dr Seng Sovathdevy, Chief of the HIV/AIDS program of the Municipality Health Department, Phnom Penh, had particularly useful feedback for AUA and CCW.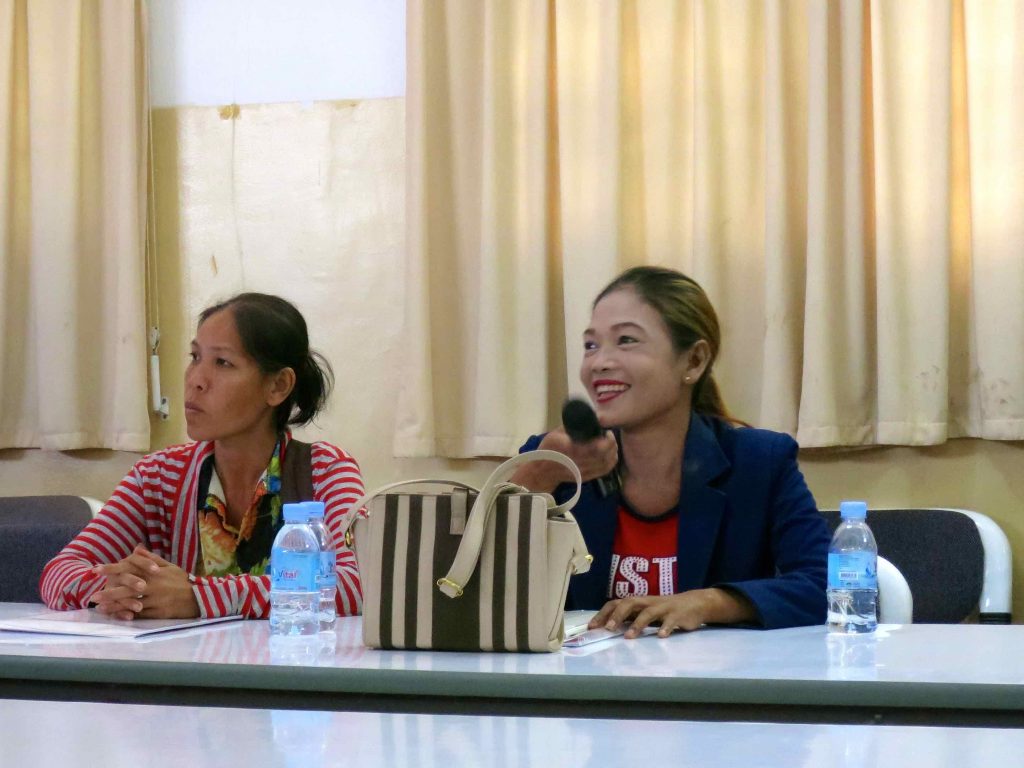 Following a short lunch break, Mr Khun Rathana, KAP Coordinator of the HIV/AIDS Coordinating Committee (HACC) and Secretary of FONPAMs, made a short presentation about current FONPAMs activities.
Participants then split into three small groups to complete the team work portion of the workshop. Each group was comprised of members of the PLHIV/KP community, NGO and CBO representatives and AUA/CCW staff. Working together, participants responded to the prompt: What are some of the problems/challenges PLHIV/KP face when accessing healthcare services, and what are some possible solutions to these problems/challenges? (េតអើ េី្វ ទជបញ្ហ ជួប្របទះ/ផលលំបករបស់្រសី្តផុកទ េមេគេអដ 
ស៍នងិ ្រកុម្របឈមមុខខសព ់កុងន ករយកេសសុខភព? េតមើ ន 
ដំេរយយ៉ ងដូចេម្តចចំេពះបញ្ហ ទងំ េនះ?). Participants were also invited to offer their recommendations for improving PLHIV/KP access. (មតេិ យបល់េដមើ បេី ធឲើ្វ យ្របេសើរដល់្រសី្តផុទកេមេគេអដស៍ នងិ ្រកុម្របឈមមុខខសព ់ទទួលបនេសសុខភព). A representative from each group then made a short presentation about their findings.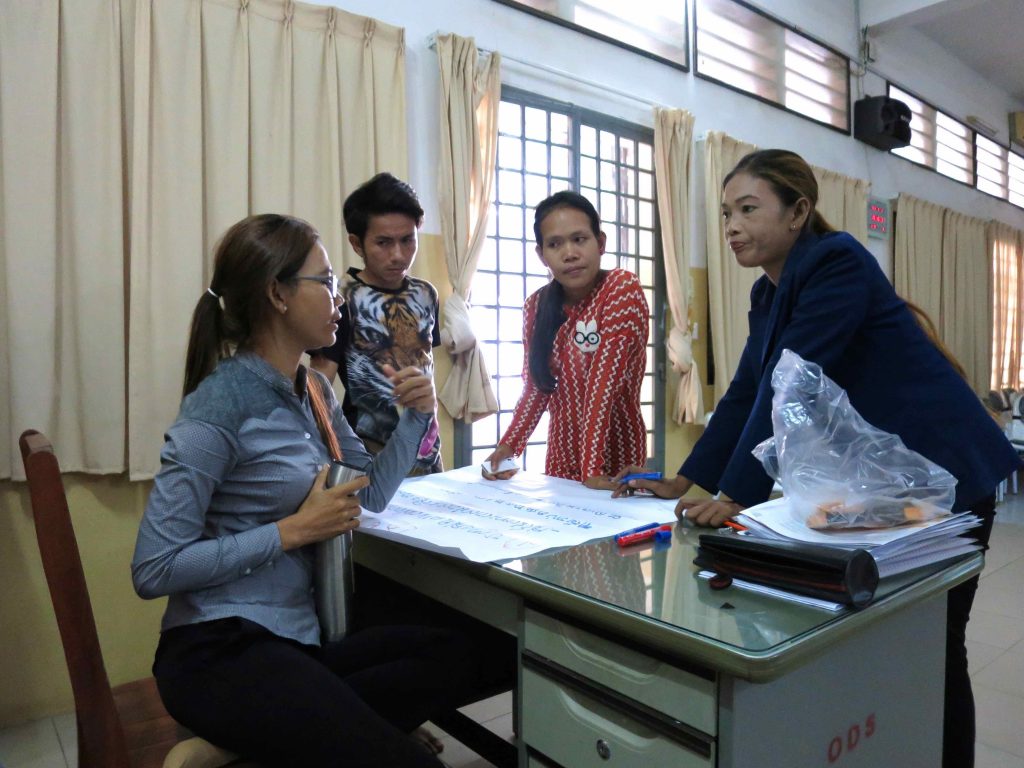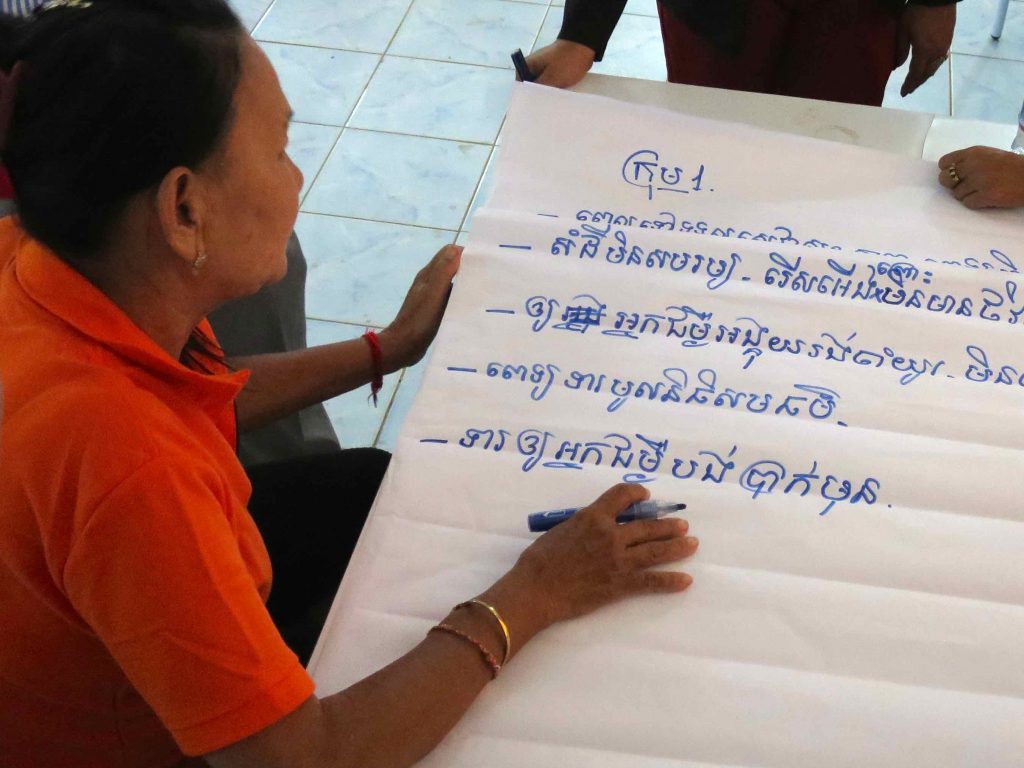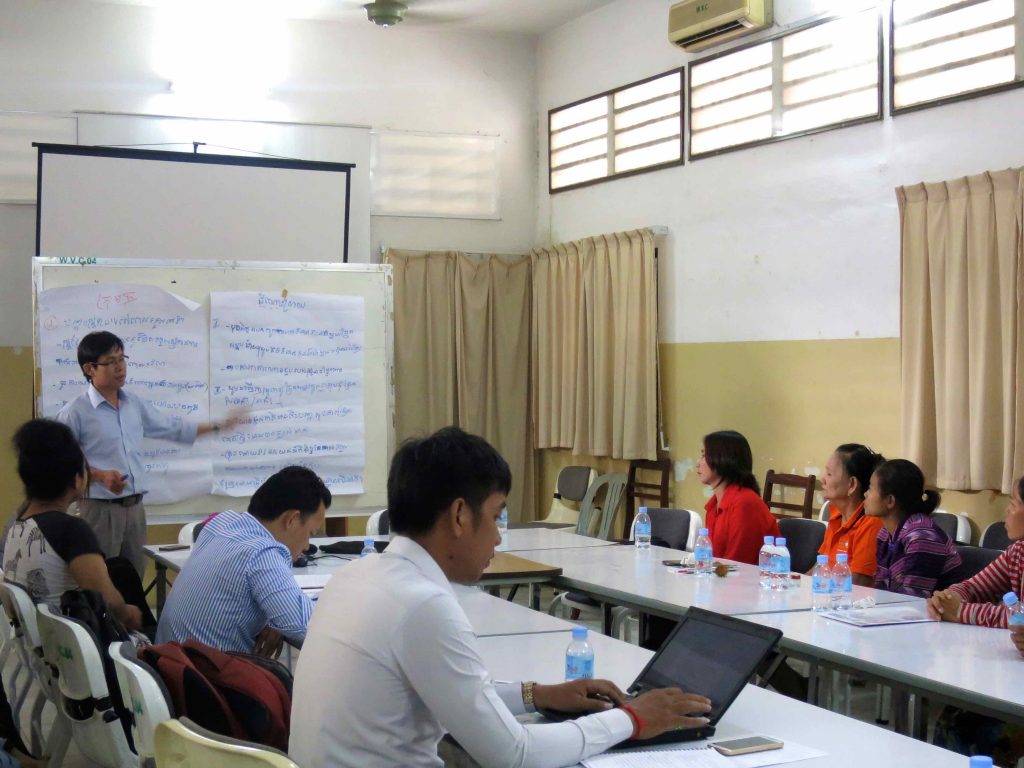 AUA and CCW would like to thank all workshop participants, particularly our honorable guests. We also extend our gratitude to Asia Catalyst for supporting this workshop. We look forward to continuing our partnership into the future.
Follow the links to read more about AUA's work in human rights, quality care advocacy, and our involvement in Asia Catalyst's Regional Rights Training program.